William Adair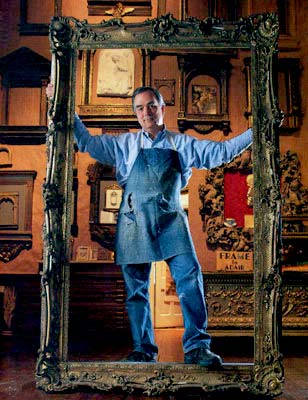 William Adair is a frame conservator, frame historian, and master gilder. He began his career in frame conservation at the Smithsonian Institution's National Portrait Gallery, where he became fascinated with gilding and the history of frames. In 1975, the Smithsonian awarded Adair a grant to travel to Europe to learn about tools and techniques from the few remaining master gilders working in the Renaissance tradition.
Adair studied under influential framers and connoisseurs Paul Levi and Henry Heydenryk. In 2003 Levi and Adair collaborated on the repatriation of an important Renaissance altarpiece polyptych to a church in the Piedmont region of Italy.
Adair has curated several frame exhibitions, including the first to take place in America. This 1983 exhibition, titled "The Frame in America, 1700–1900," was sponsored by the American Institute of Architects. Adair's catalogue for the exhibition is still used today as a reference for American frame history. In 1995 he curated a follow-up exhibition entitled, "The Frame in America: 1860–1960," which traveled to museums around the country from 1995–2001.
In 1991, the American Academy in Rome awarded Adair the Rome Prize in Design, allowing him to spend six months in Rome immersed in the study of frame design.
Adair writes and lectures on frame history and conservation. He is the founding Director for the International Institute for Frame Study (a non-profit archive) and a founding member of the Society of Gilders. He is also an associate member of the American Institute for Conservation of Historic and Artistic Works.
Adair holds a BFA in Studio Art from the University of Maryland. In the fall of 2011 a retrospective of Adair's paintings will be shown at Montgomery College, in Maryland.